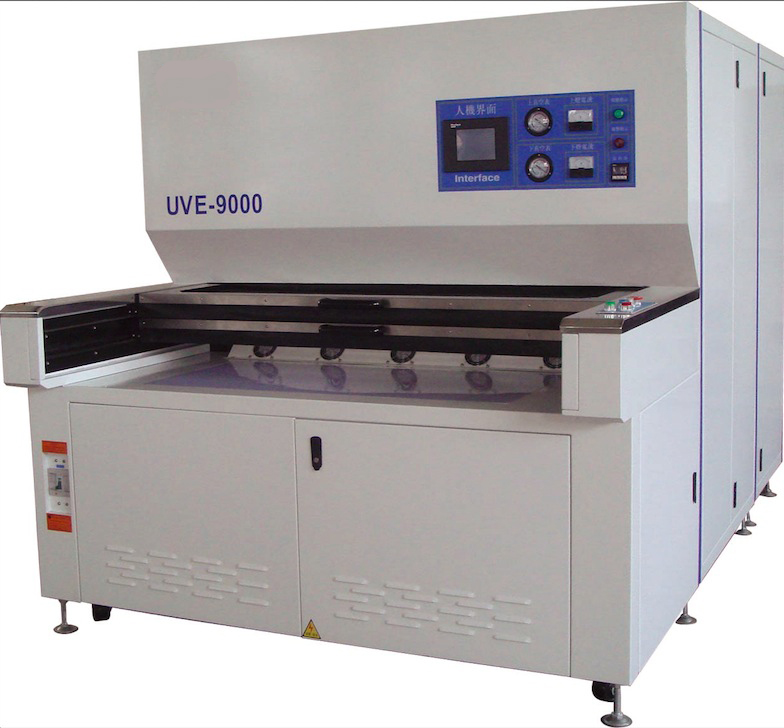 Product description:
The exposure machine using electronic energy-saving transformers, compared with the traditional transformer exposure machine about 25% energy saving.
In the same power output, the electronic energy-saving transformer output UV intensity higher than the traditional transformer about 30%.
Product Features:
UVED-9000 Exposure Machine Features:
1. Operation interface can be in / English switch, the use of intelligent touch screen, with PLC operations, easy to learn easy to operate.
2. Personalized comprehensive alarm system to ensure the use of equipment safety.
3. Specialized comprehensive UV volume sensing, accurate control of exposure.
4. Mechanical up / down exposure table, the precision measurement, the upper / lower exposure uniform.
5. Equipment capacity and consumption of automatic records, to facilitate the management and production costs.
6. High efficiency refrigeration system, to ensure that the exposure table for a long time to operate the stable temperature.

Technical Parameters:
1 power supply AC 380 V 3φ 50HZ 30KW
2 Dimensions W1820 * D2800 * H1700 mm + 100 mm
3 Effective exposure area MAX.610L * 1220W (24 "* 24" * 2 tablets)
4 Exposure frame MTLAR film vacuum suction glass
5 Cooling water source 10 tons of cooling water tower, water flow 120L / min
(machine flow into the water side of the flow)
6 Lamp cooling method The lamp part is air cooled and the lamp part is indirect water cooling
7 Exposure table cooling method Forced air cooling can be used for temperature control
8 Exposure energy control LCD display type UV energy integrator
9 surveillance system Self-diagnostic function and abnormal message display
10 Light source system 9KW halogenated metal lamp * 2;
electronic energy-saving transformer
11 Standby power ≥2.5KW
12 Exposure power Stepless adjustment (power can be set by touch screen)
13 Pressure source Operating pressure 2kgf / ㎝2 or more
14weight 1100KG